There are artists who make beautiful objects for the sake of beauty, but I'm not one of them. I focus on the process of making light, movement, shape, color, and design expose what is concealed. 
Humor finds its way into many of my pieces, as do warmth, curiosity, and a sharp awareness of the human condition. I endeavor to create subjective spaces where my viewers and I meet.
My work is often ephemeral, existing only in a particular space, time and social/cultural context. And for the record, without beauty, life would indeed be dull.
The Langley Mail War of 1904
A story of petty jealousy that unfolded at 101 Anthes Avenue in the town of Langley, Washington. 
This story was told in a video projection on the wall of the Rob Schouten Gallery, the current tenant of the site. 
I also created an augmented reality version, which makes it appear that you're a voyeur watching the drama unfold through a window. 
To view it, scan the QR code and follow the directions.
Projects Involving Addiction, Recovery, and Drug Policy
A card game about recovery from addiction. The game is under development; these are prototype cards.
This is an augmented reality (AR) portrait project focused on people in recovery from a substance use disorder. AR, in this project, uses a smartphone to enhance and add meaning to ordinary images.
The images will be created based on the lived experiences of people in recovery. Over the next year, I will be interviewing people and creating AR portraits. 
​​​​​​​
My plan is to exhibit the AR portraits in non-profit galleries, recovery community organizations, hospitals, addiction treatment centers, or virtual galleries. This is not a commercial project and nothing will be up for sale. Images and names of the people I interview will be anonymized.​​​​​​​
Try the AR experience with this demo:

Use your smartphone camera to scan the QR code below, then follow the directions. A smartphone made in the last three years is best. 
Use the Safari browser on an iPhone -- on Android use either Chrome or Firefox. 
Nivarra, a fictitious non-profit pharmaceutical company of the future, is a vehicle to explore how policies and organizations can reduce the harm caused by our current failed drug policies. 
Selected video projections from the past twenty years.
On December 3, 2022 I presented an ethereal video projection at the Rob Schouten Gallery Sculpture Garden in Langley, Washington. The piece is titled

Float

 to suggest buoyancy and lightness, color and enchantment.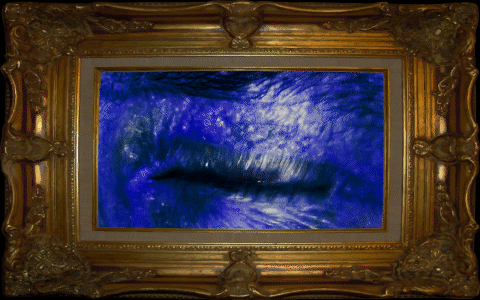 Who defines the culture of a place?