There are artists who make beautiful objects for the sake of beauty, but I'm not one of them. I focus on the process of making light, movement, shape, color, and design expose what is concealed. 
Humor finds its way into many of my pieces, as do warmth, curiosity, and a sharp awareness of the human condition. I endeavor to create subjective spaces where my viewers and I meet.
My work is often ephemeral, existing only in a particular space, time and social/cultural context. And for the record, without beauty, life would indeed be dull.
Selected video projections from the past twenty years.
On December 3, 2022 from 5 - 7pm, come by the Rob Schouten Gallery in Langley and enjoy my ethereal video projection in the Sculpture Garden. The piece is titled

Float

 to suggest buoyancy and lightness, color and enchantment. All are welcome!
This is a collaboration with Bay-Area artist Therese Lahaie that we performed on August 27, 2022 in downtown Langley, Washington. 
Therese uses mirrors to reflect the sun on to the sides of buildings, creating wonderful, evolving avian shapes she calls Lightbirds. 
Instead of the sun, we used video projectors to create the Lightbirds by reflecting
 abstract video images from the projectors on to a large wall.
I

n Downtown Langley, Washington o

n February 5, 2022 I performed a video projection installation titled

Oculi Vigilantes

. The literal translation is

eyes watching

, and it features a selection of creatures found in our local area -- specifically, it features their eyes.

For over twenty years I have been doing large-scale video projections in public spaces. Here on Whidbey Island, we live in a sanctuary along with our animal friends. As we watch one another trundling about, we seem to be heading down a path that points to ruin: environmental, social, and cultural. This feels like a moment to remember that these creatures are watching as well.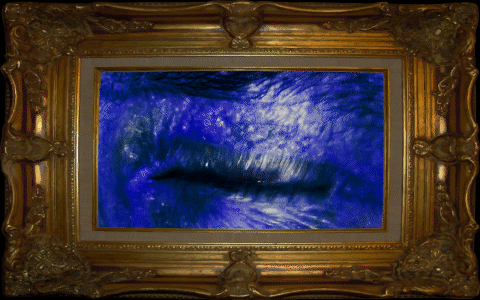 Each of my garage doors have eight small windows and I placed video clips in each one. The trick or treaters liked it but it was the fathers who asked questions. Projectorguy does not reveal his secrets easily, he simply said "its magic."
Every dog needs a house. This is my family's dog, Utah, who once needed a house and found his way to ours. Please consider letting a dog find your house, you won't regret it!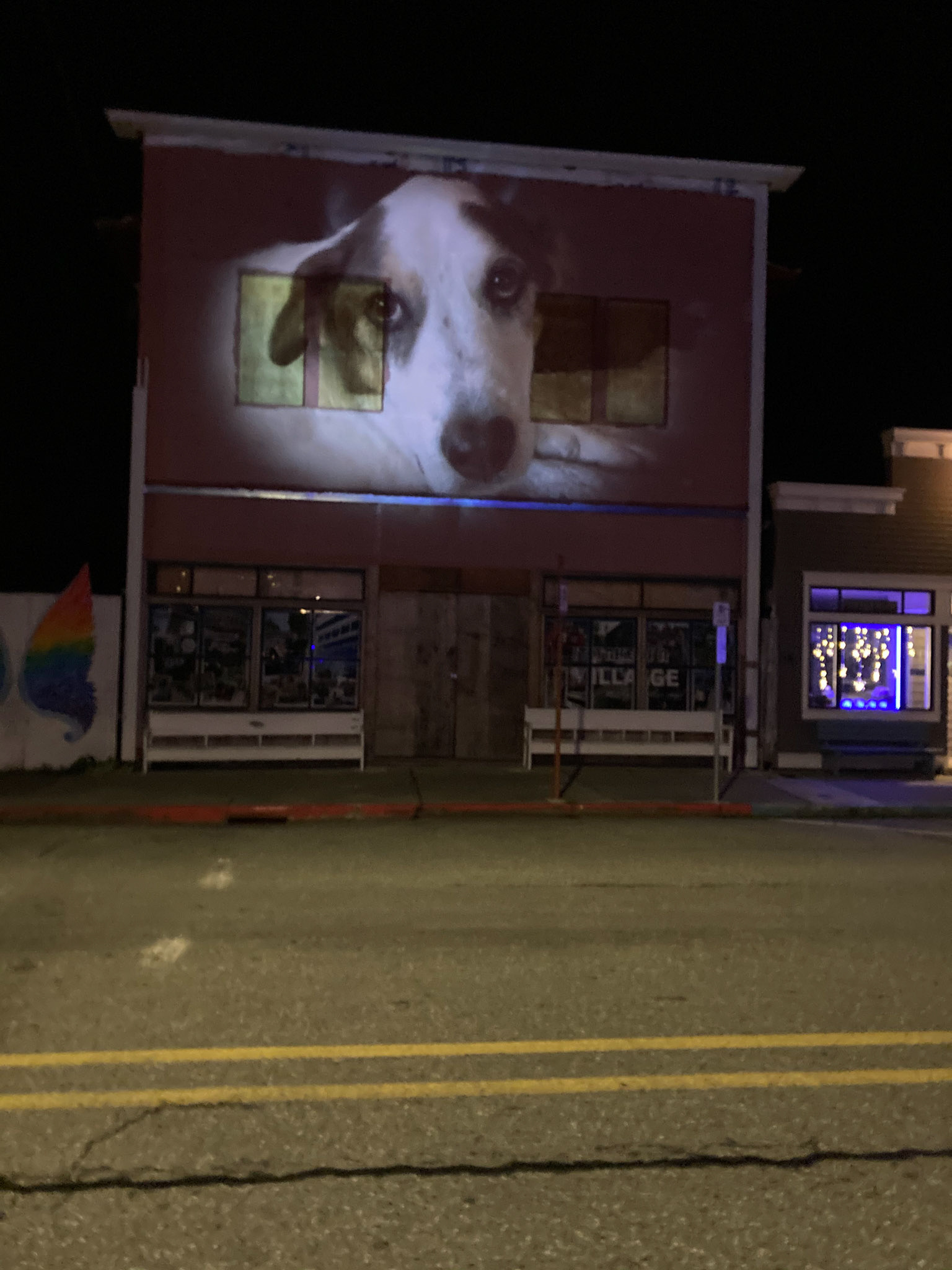 Whidbey Island Center for the Arts
A projection on the Whidbey Island Center for the Arts building located in Langley, WA.

Who defines the culture of a place?

This guerilla-style video projection was part of my MFA Graduation Show at Vermont College of Fine Arts in Montpelier, VT.

I lived for many years in a suburb of Seattle that had an old strip mall that dated back to the 1960s. It was showing its age, especially when the Red Apple Market closed its doors. I did a number of video projections on the buildings in an attempt to stimulate the imaginations of my neighbors and to help us forge a new neighborhood core. 

Nivarra is a response to the abject failure of the so-called "war on drugs" which, in practice, has been a tool to separate and marginalize political opponents. It's the first part of a body of work related to substance use disorders and recovery, along with the legal and social structures surrounding these issues.